いざ墓石が必要になった と言う時に、なかなかその選び方というのはわからないものです。そこで、そういう時のためのちょっとしたヒントをご紹介します。
Mid 1930's
---
Joseph Attinello worked as a cook at the Wardell Restaurant down by the Easton-Phillipsburg bridge.
---
1938
---
Joe opened Joe's Steak Shop at 324 South Main Street. He sold cheesesteaks for $.15 a sandwich along with a mild or hot sauce he made himself.
---
1940's
---
Joe bought the building at 320 South Main Street and moved the business there.
---
1958
---
Joe bought a tiny shack from a friend Ed Jiorle at a driving range in Straw Church Circle. Another friend who owned a gas station on South Main Street also owned a small construction company had helped Joe move the shack overnight to 289 South Main Street. This was the home of Joe's in-laws, Mary and James Pacenti. The building was put on a concrete foundation that was dug out by Joe's oldest son also named Joe, (nickname Butch) one day after football practice with the help of one of his teammates.

---
1965
---
Joe had the opportunity to move directly across the street and buy the property of 274 South Main Street, known as the City Service Gas Station.
---
1978
---
Joe retired leaving his son Joe (Butch) to continue running the business. Growing up in the family business was Joe's son, "Little" Joe who worked alongside his father for many years.

---
1995
---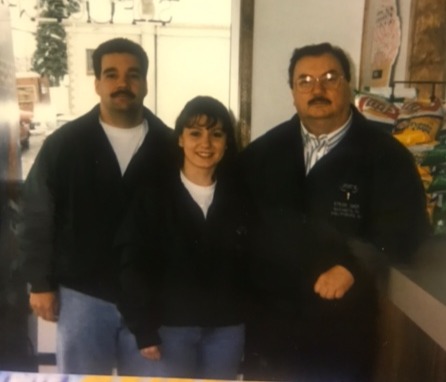 Joe was able to expand the business, opening a second location in Nazareth PA. Little Joe would go on to run this store.
---
1997
---
Joe's (Butch) daughter Jody joined the family business and began working for her father.
---
2004
---
Cruise Night was introduced to the town of Phillipsburg. A few of Joe's(Butch) friends asked him if he would consider hosting a classic car show. After much consideration, the car shows began. It started off with a few dozen cars and began to gr ow each week to what is now a few hundred cars every week. (weather permitting)
The show runs May- October. It's a wonderful family orientated place to come on a Tuesday night to enjoy classic cars, live entertainment, Joe's Jackpot, and of course...great food!
---
2020
---
2020 brings us a new way of life. Covid-19 has affected each and every one of us. We have shut our dining room down in March and have yet to open it. We have been blessed with a parking lot big enough to host 8 tables outside to provide a safer environment for you to still dine out in the warmer months. With all of our loyal customers as well as our new ones, you have made it so our family business of over 80 years has been able to survive this global pandemic and continue to serve you. We can not express our gratitude enough. We will continue to do our very best to serve you, continue to make it a safe environment for you to pick up your food, and to give you the best product we can.
---
---
初めて迎えるお盆を新盆といい、ご家庭では白い提灯や花、野菜などで盆飾りをして新霊を迎え、お坊さんを呼んで読経をして頂きます。お彼岸には、お寺へ行って読経、焼香、墓参を致します。
納骨を済ませたあとはご遺骨を墓地に埋葬しお位牌を仏壇に祀りますが、新仏の場合、すべてを短時間に用意するのは大変です。墓石は一周忌までに建立することを目安に墓地を選定し、仏壇は出来るだけ早い時期に揃えるようにされたらよろしいでしょう。